Home >
OFL standard Series
OFL Standard Series
Die cast aluminum made standard Foot switch most generally used in a wide area.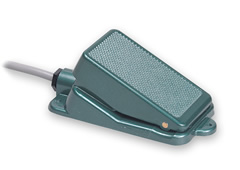 Feature
■OFL standard model has been evaluated with the highest credibility and actual record in a domestic for 50 years over.
■Each type is classified by built in switch.
■Outlet of cord comes with seal connector as standard.
※Conduit size is G1/2
Applications
Industrial equipment ( Metal forming machine etc.), Transportation vehicle (train, bus), Woodworking equipment, Sewing machine, Installation equipment, Medical equipment, Measuring equipment, Public welfare device, other general equipment, etc.
Line-up
Momentary / Tread ON→Release OFF
Maintained(Alternate) / Tread ON→Release and Tread again→OFF
【OFL standard type】
Basic model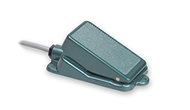 Option
【Protection cover】
Protection cover for preventing malfunction by falling objects.
Material:Stainless steel
Weight:1,310g
Applicable
series
・OFL
・M4
・S5
・S6
・M6
・S7
・H
・P
Explanation of type
Add CS to end of type
※When placing order, instruct the exact type of footswitch using at present due to mounting screw differs according to each type.