Home >
Original TP Mat Switch
Original TP Mat Switch

You can customize the conventional Mat Switch with own your favorite design which produce beneficial visual effect for safety measure. ApplicationsMachine operation control, Robot area guarding, careless miss prevention, automatic door control, security guarding,or other risk prevention in advance.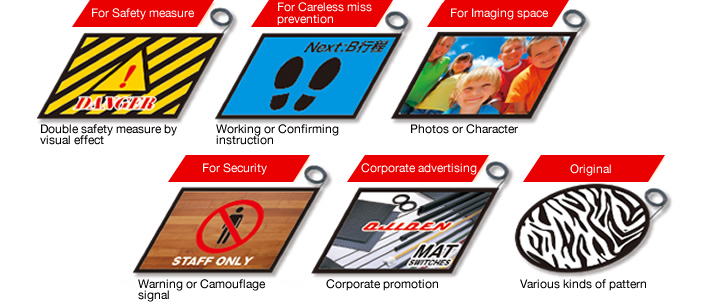 Printing a design or favorite character improves not only safety measure
but also effective in careless miss prevention for picking work or working instruction.
Usable for amusement facility by reflecting the sounds or light by utilizing the Mat Switch contact.
Barcode or QR Code is also readable.
Maximum size per Mat (mm): 1000H X 1500W X 12T

Placing Order for Custom-size Mat Switches
Instruct ①~③ as below.

◆In case of using a Mat Switch , a combination with fail-safe controller is recommended.
◆In spite of custom order, it will be manufactured within a short lead time.
◆Standard setting: A 1.5M-length of lead wire will be pulled out from the top right of corner.


Size (Shape) / Lead wire outlet & classification. (Red, Green, White, Black)
Configuration

| | | | |
| --- | --- | --- | --- |
| Electrical Rating | AC/DC28V-1A | Contact resistance | 0.05~1.6Ω or less (If under operating force or more) |
| Withstand Voltage | 500VAC for 1min | IP | Drip proof (Equivalent to IP54) |
| Contact life | 1,000,000 times activation or more (Tested with relay 24V-0.3A Load) | Housing material | Oil resistive rubber (NBR), Surface is PVC |
| Operating force | 50~60N approx. (under φ90 pressing plate) | Lead wire | W/ S-VCTF0.75㎟ X 4C X 1.5M |
| Insulation resistance | 100MΩor more (500VDCMegger) | | |
Option
【Fail Safe Controller】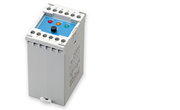 ●

SC-2

(AC only)
●4 wire type circuit control unit (Cable disconnection or short circuit detector)
●Improve plant safety