S7 Series
Equivalent to IP28 / Waterproof footswitch which adopted high reliability-BESTACT enclosure-contact, and it made it sealed structure.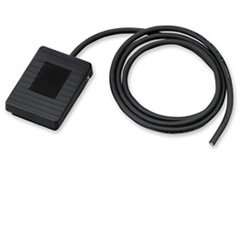 Feature
■Equivalent to IP28
■Conform to IEC 60601-1
■Adopted hermetic-sealed contact excels in water resistance, gas resistance, and environmental resistance.
■This contact (Produced by YASUKAWA) is be able to use in various kinds of circuit. (From 1mA-24VDC as micro current up to direct control as big power)
■Waterproof type allows whole washing
Applications
Medical equipment, Food machinery, Vessel equipment, Industrial equipment, other etc.
Line-up
Momentary / Tread ON→Release OFF
Maintained(Alternate) / Tread ON→Release and Tread again→OFF
Option
【Protection cover】
Protection cover for preventing malfunction by falling objects.
Material:Stainless steel
Weight:1,310g
Applicable series
・OFL
・M4
・S5
・S6
・M6
・S7
・H
・P
Explanation of type
Add CS to end of type
※When placing order, instruct the exact type of footswitch using at present due to mounting screw differs according to each type.