OM-7541
Mat Switches (Standard type)
---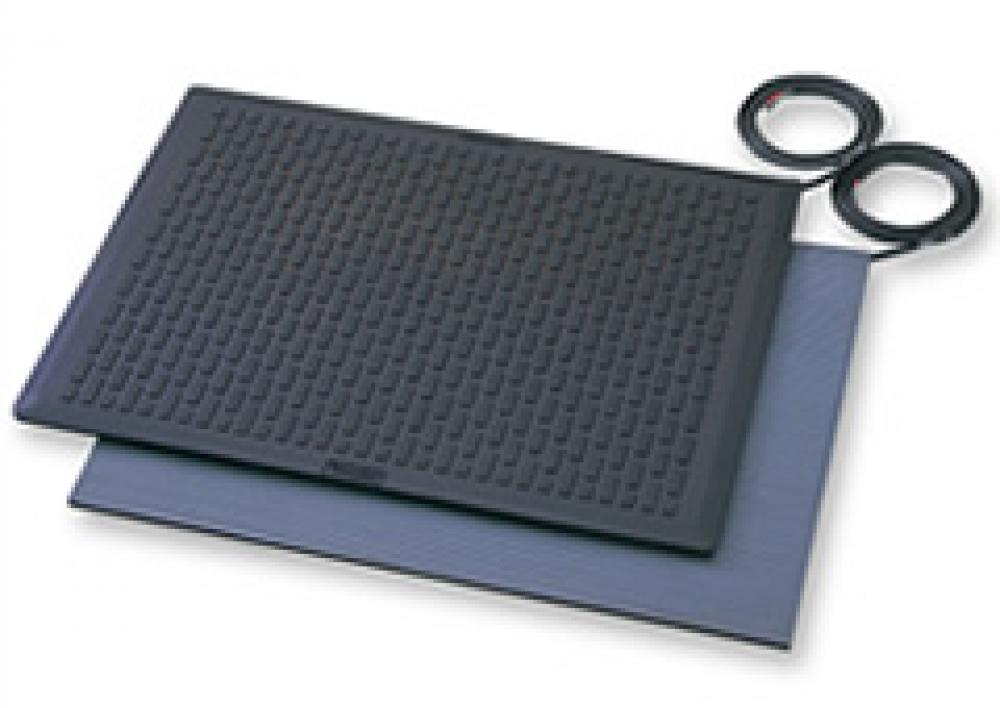 | | |
| --- | --- |
| Size(mm) | 500(H)×700(W)×10(T) |
| Material | None oil-resistive (NR) |
| Surface pattern | Rib texture type |
| Color | Gray |
| Electrical Rating | AC/DC28V-1A |
| Withstand Voltage | 500VAC for 1min |
| Contact life | 1,000,000 times activation or more (Tested with relay 24V-0.3A Load) |
| Insulation resistance | 100MΩor more (500VDCMegger) |
| Contact resistance | 1.0 Ω or less (If under operating force or more) |
| Operating temperature range | -10℃~+60℃ |
| Withstand load | 1960N (Under φ100 pressing plate for 1 min) |
| Ingress protection | Drip proof (IP54 equivalent) |
| Supplied Cable | S-VCTF0.75m㎡×4CX1.5m |
| Operating force | 50~60N approx. (under φ90 pressing plate) |
| Weight | 4000g |
| Circuitry | 1a |
| Inactive area | Approx. 25mm (Joint surface of whole circumference) |
Mat Switches (Standard type) is widely utilized for eliminating and preventing hazards in advance such as creating safety zone around a industrial robots or NC tooling machine including automatic door control and security guarding.

Other size of mat switch is available upon your request.
Maximum size per mat is 1200 (H) X 3000 (W) X 10 or 14 (T)
Minimum size per mat is 100 (H) X 100 (W) X 10 or 14 (T)

【Applications】
Machine operation control, Crime prevention, Automatic door, etc.

Drawings
Circuit diagram
Other image 3
Option
【Aluminum joint frame】
Effective in prevention for stumbling by fixing outer circumference of mat switch. Not only aesthetical pleasing, it draws attention for better identifications of hazardous area. In case of fixing the frame to the floor, mounting hole processing is required (Available upon on a request)
●OMC-45
◆Custom Size: The frame accommodates mat switches of 13~14mm in thickness.
※In case of setting Aluminum joint frame on mat switch, total outer-circumference becomes 35mm size up approx.
【Fail-safe controller】

●4 wire type circuit control unit (Cable disconnection or short circuit detector)
●Improve plant safety

●4 wire type circuit control unit (Cable disconnection or short circuit detector)
●Standards certified product
●CE Marking product
●Safety Grade: Type 3
●High accuracy safety double coil installed