OFL-TV-M4
---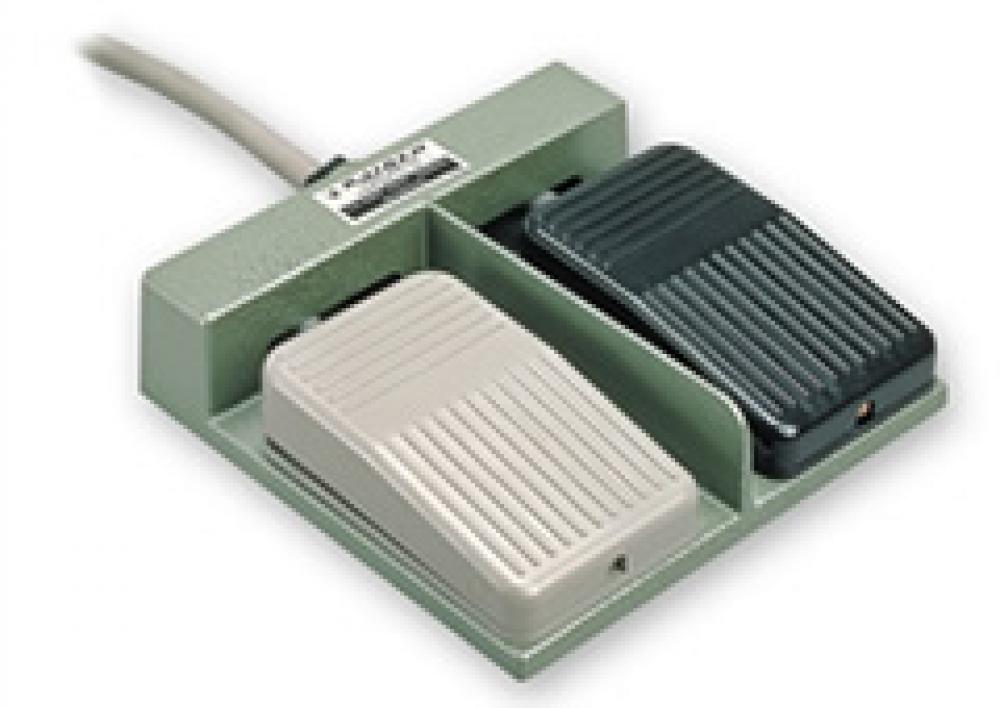 | | |
| --- | --- |
| Action | Momentary |
| Electrical Ratings | 3A-250V AC |
| Built-in switch | Micro switch type V |
| Circuitry | Each side 1c |
| Supplied Cable | VCTF0.75X6CX1.5M |
| Operating Force | 10N |
| Degree of Protection | IP30 |
| Housing material | ABS Resin |
| Color | L:Gray/R:Black |
| Weight | 920g |
| Applicable protection cover | OFL-TC |
| Country of origin | Japan |
M4 series is ABS resin made mini type Foot switch with high credibility.

2-pedal type.

SPDT (Each side)

Backward fulcrum type.

Suitable for long-work and forward/reverse rotation control.

【Applications】
Medical equipment, Electronic device, Public welfare device, Sewing machine, Educational device, Other industrial equipment, etc.

【Applications】
Industrialquipment,Transportation vehicle, Medical equipment,Installation equipment, Measuring equipment, Woodworking equipment, Sewing machine,Public welfare device, Other devices.
Drawings
Circuit diagram
Option
【Protection cover
for Twin pedal type】
Protection cover for preventing malfunction by falling objects.
Material:Steel
Weight:1,500g
Applicable series
・TV-S3
・TVG-S3
・TVG5-S3
・TV-M3
・TV-M4
・TV-FS2
Explanation of type
Add C to end of type
※When placing order, instruct the exact type of footswitch using at present due to mounting screw differs according to each type.